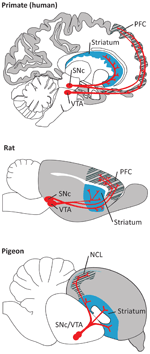 Puig MV, Rose J, Schmidt R and Freund N
Dopamine modulation of learning and memory in the prefrontal cortex: insights from studies in primates, rodents, and birds.
Frontiers in Neural Circuits (2014) 8:93.
We give a brief overview over the role of dopamine in the prefrontal cortex during learning and memory. Our aim is to provide a basis for comparing the work done in humans, monkeys, rats, and birds.